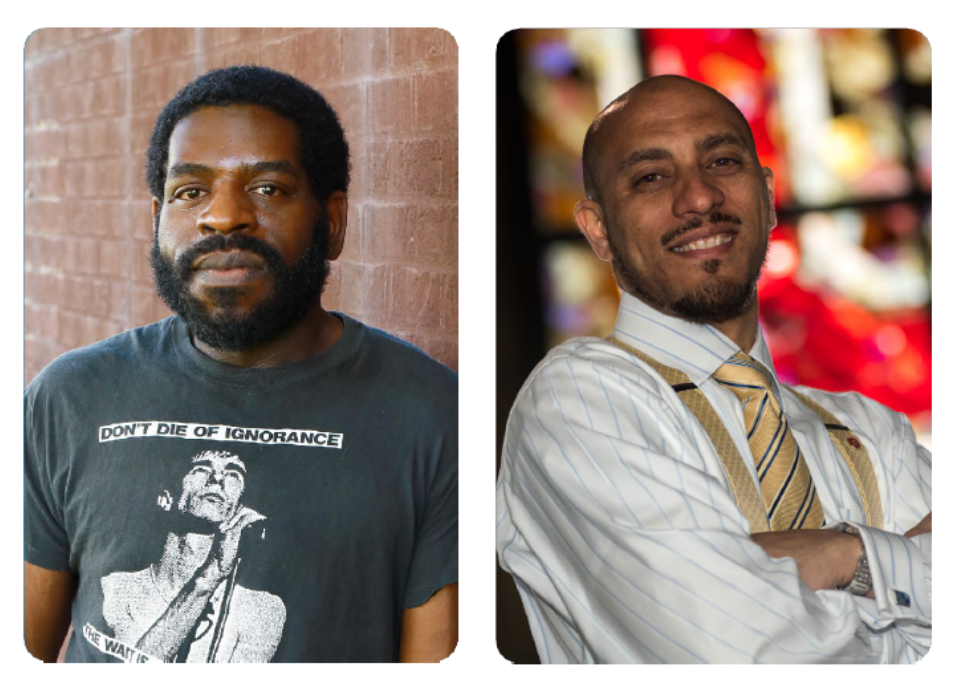 We are proud to honor MacArthur Fellowship winner Hanif Abdurraqib and Ohio State history professor and author Hasan Kwame Jeffries, PhD at our 16th Annual Legends & Legacies Award Ceremony and Reception on Thursday, October 12, 2023.
Honorary Co-Chairs
Linda and Frank Kass*
Host Committee Co-Chairs
Bonita and Archie Griffin
Gale V. King
George Barrett*
Frederic and Heather Bertley
Jeri Block and Bobby Schottenstein*
Dr. Marcia Chambers
Norma Duckett*
Lisa and Jeff Edwards
Jasmine and Reuben Green
Cindy and Larry Hilsheimer
Donna and Larry James
Olivia Johnson
Mary K. Lazarus
Valarie McDaniel
Randi and John Mitchell
*Denotes extra gift
As of September 19, 2023
Dan Moncrief, III
Denise Rehg
Sheila and Gene Smith*
Joy and Bruce Soll
Cheryl Brooks Sullivan
Betty and Benny Upchurch
Proceeds from the event supported the many arts education programs offered by The King Arts Complex.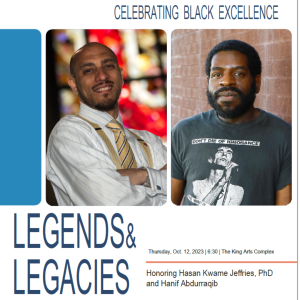 Join The King Arts Complex as we honor Ohio State's Executive Vice President and Provost Melissa Gilliam, MD, Senior Vice President for the Office of Student Life Melissa Shivers, PhD, and Senior Vice President and Wolfe Foundation Endowed Athletic Director Gene Smith at the 15th Annual Legends and Legacies.  The Award Ceremony and Reception will be held on Thursday, October 6, 2022 at the Lincoln Theatre. 
The King Arts Complex celebrated the 14th annual Legends and Legacies award recipients on Thursday, October 7, 2021 . The honorees were Ann and Ron Pizzuti.
The Pizzutis are ranked by ART News among "The World's Top 200 Collectors" and have amassed a truly legendary contemporary art collection. In donating The Pizzuti Collection to the Columbus Museum of Art, they have created a legacy that will endure for decades to come.
Ann and Ron Pizzuti are among the nation's foremost collectors of black art with works by over 111 African, Afro-Cuban and African American artists. They own works by African Americans: Kara Walker, Kehinde Wiley, Mark Bradford, Titus Kaphar, Hank Willis Thomas, Wangechi Mutu, Lyle Ashton Harris, Kerry James Marshall, Leonardo Drew, Carrie Mae Weems, Derrick Adams and Julie Mehretu, among others.
Ann and Ron have spent the last 40 years amassing a collection of over 2,000 pieces of contemporary art. In September 2015, they decided to share their collection with the City of Columbus by creating The Pizzuti Collection, now a part of the Columbus Museum of Art. By doing so, Ann and Ron aimed "to foster cultural understanding and educational exchange by championing a diversity of voices from around the globe."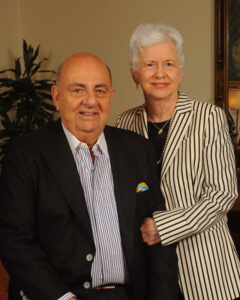 The King Arts Complex celebrated the 13th annual Legends and Legacies award recipients on Thursday, October 17, 2019 . The honorees were Curtis J. Moody, Sr. and Lewis R. Smoot, Sr.
The King Arts Complex celebrated the 12th annual Legends and Legacies award recipients on Thursday, October 4, 2018 . The honorees were the Honorable R. Guy Cole, Jr., Honorable Algenon L. Marbley and Alex Shumate, Esquire.
Congresswoman Beatty currently represents the 3rd District of Ohio in the U.S. House of Representatives. She previously served five terms in the Ohio House of Representatives, where she became the first female Democratic House Leader in Ohio's history. Attorney Otto Beatty, Jr. served for eighteen years in the Ohio General Assembly and is the former president of the Franklin County Trial Lawyers Association. He is a tireless advocate for children, families, and consumers.

Dr. Drake was appointed the 15th President of The Ohio State University in 2014. An experienced leader, Dr. Drake has shared a compelling vision for the university to continue its ascent in the national rankings while focusing on greater access, affordability and inclusive excellence. A physician by training, Dr. Drake has provided exceptional leadership to the university community, and to higher education nationally.
After a career as a lawyer and as a director or trustee of organizations focused on education, international health, finance, civil rights and the arts, Mrs. Drake now serves Ohio State through advocacy and engagement on campus, in Columbus and throughout the country.
Together, the Drakes are talented, dynamic leaders whose dedication to Ohio State and the community will have an enormous impact for years to come.
It is indisputable that Mayor Michael B. Coleman's achievement in his 16 years' tenure has benefited most of community members in Columbus: projects in downtown area have revitalized King Lincoln District, Near East Side and Franklinton; and recent community development of American Addition area increases the number of beneficiaries in Columbus.
As Columbus Museum of Art CEO Nanette Maciejunes referred in the Award Ceremony, "Showing up is the best support." Mayor B. Coleman has been active in almost every community events, from museum receptions, tie tying ceremony to small business conference and Columbus Marathon. His efforts have left us a healthier community environment encouraging everyone to participate in making Columbus a better home for future generations.
This year's honoree will be Wil Haygood – Author, Reporter, and Biographer.
This year's honoree will be Denny Griffith – Artist and Educator.
The King Arts Complex will celebrate the 6th Annual Legends & Legacies Awards, "Living Legends of the Skies: The Tuskegee Airmen". This year's honorees will be eight Documented Original Tuskegee Airmen from Ohio. These individuals are the heroes and pioneers of equality that triumphed over adversity and rose above obstacles. We are proud to honor their bravery and accomplishments!
Thomas Austin
Harold Brown
Hilton Carter, Jr.
Donald E. Elder
Charles Feaster
Robert L. Harvey, Sr.
John Leahr
Paul Menefield
Charles I. Williams
Loann Crane
Robert Duncan
Lynn Greer
Archie Griffin
Donald Harris
Is Said
Larry James
Kojo Kamau
Cathe Kobacker
Doug Kridler
Wayne Lawson
Robert Lazarus
Amos Lynch
Mary McClendon
William and Florence Richardson
Aminah Robinson
Cliff Tyree
Gene Walker
Terri Springer Walker
Ric Wanetik
Tony and Aziza West
Jeanette Williams
John B. Williams
Catherine Willis
Maya Angelou – Writer, Poet, Educator, Actress, and Civil Rights Activist
Halroy "Hal" Williams – Actor
Bernard Terry – Athlete, Artist, and Actor
Samella Sanders Lewis – Artist, Educator, Art Historian, and Writer
Lerone Bennett, Jr. – Author and Historian
Johnnetta B. Cole – Cultural Anthropologist
Danny Glover – Actor, Director, and Producer
James Counts Early – Equal Rights Advocate
Harry Belafonte – Musician and Actor
Ruby Dee – Actress
Mari Evans – Writer and Poet
Nikki Giovanni – Writer and Poet
Odetta – "Queen of American Folk Music"
Sonia Sanchez – Writer and Poet
Val Gray Ward – Theatre Personality and Activist