2022 Juneteenth On The Ave
Saturday, June 18, 2022 from 12 PM to 6 PM
Mt. Vernon Avenue
Free Community Event
Join us to learn about the significance of June 19, 1865, through educational, performing, and visual art activities. Juneteenth Freedom Day explores how the date has impacted the African American experience over the past 157 years.
Juneteenth on the Ave is a collaboration between community-based organizations around Columbus' Historic Mt. Vernon Avenue to celebrate Black resilience and creativity. The event showcases performing and visual artists while promoting support to black owned businesses. The district-wide commemoration features archival community photographs, art exhibits, food trucks, games, health screenings, higher education information sessions as well as dance, music, spoken word and theatre performances. This family-friendly event is free and open to the public.
Produced in partnership with the Columbus Urban League, Maroon Arts Group, the Central Ohio African American Chamber of Commerce, Black Out and Proud, the Poindexter Village Museum, the Ohio History Connection and Sole Classics.
Program support for the King Arts Complex participation is provided by City Of Columbus Department of Recreation and Parks, Franklin County Department of Job & Family Services, Cardinal Health, City of Columbus, United Way of Central Ohio, Mid-Ohio Food Bank, Thelma Clark Scholarship Fund, and The King Arts Complex Education Supporters.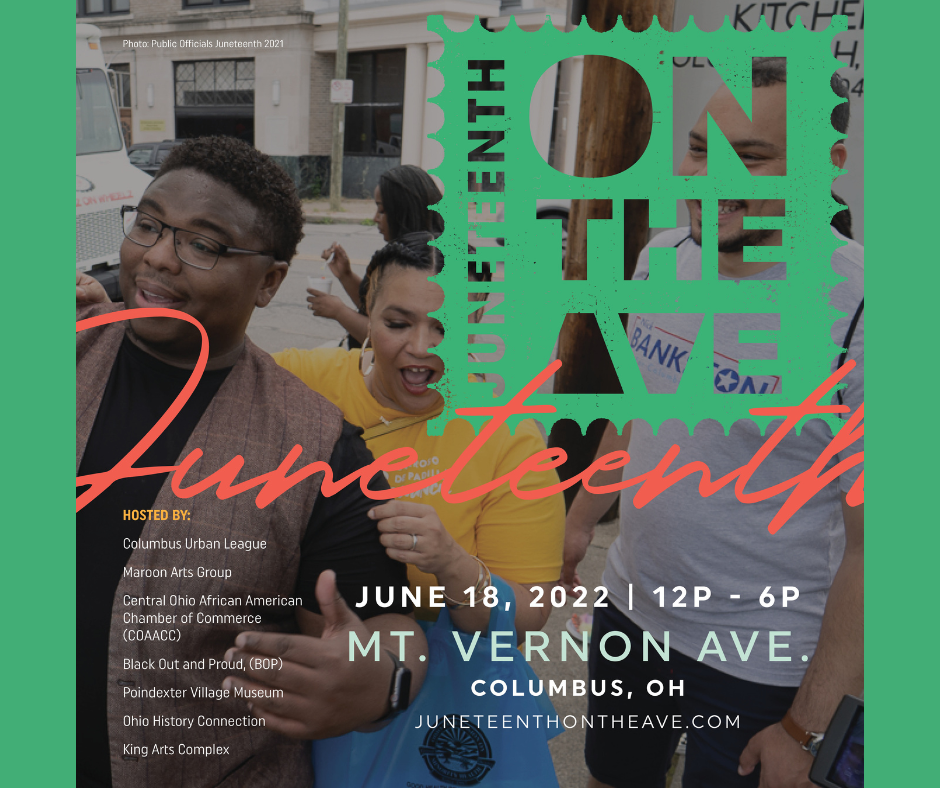 ENTERTAINMENT SCHEDULE
AMOS LYNCH PLAZA
Opening Ceremony 12 PM
Shad Jones (12:30 – 1:00 PM)
Black Women Rise (1:15 – 2:15 PM)
DJ O Sharp (2:15 – 2:45 PM)
Storytellers (2:45 – 3:30 PM)
Broken English (3:30 – 4:30 PM)
MPACC BOXPARK
Opening Ceremony 12 PM
Najoura (1:00 – 1:30 PM)
FYI Quartet (1:45 – 2:45 PM)
Cedric Easton & Circle of Friends (3:15 – 4:15 PM)
PitchBlack Mini-Pitch (4:15 PM)
Liquid Crystal Project (4:45 PM – 5:45 PM)
MAYME MOORE PARK
Opening Ceremony 12 PM
Ella Star (1:15 PM – 1:45 PM)
Eric Rollin + DJ (2:00 PM – 2:45 PM)
Shaun Booker (3:00 PM – 4:00 PM)
Vamp Village – backing band
Thump Daddy Payne (4:15 PM – 5:00 PM)
Vamp Village – backing band
PitchBlack Mini-Pitch (5:00 PM)
The Flex Crew (5:15 – 6:45 PM)
TT'S SWEET TEAS, LLC
Coco's Confectionary Kitchen, LLC
Willowbeez SoulVeg LLC
OnTheShield Catering
Kix stands up
Too Good Eats
D'S DOGS
Solomon & Lynn's Pizza Shack
MaMa's Kidz Limeade
Dirt Rich Brew
Manman's Production LLC
Flavors of Ice
Eliza's Cookies & Treats, LLC
Queen's Table llc
Soul Crave
The Pastry Boutique
Our Daily Manna
Wingz on Wheelz
Marlow's Cheesesteaks & The Water Ice Shoppe
Q's Cakes
Fork in Nigeria
Zone 5 BBQ LLC
Libation & West African Dance
The Juneteenth on the Ave Easel Gallery
Children's Book Fair of Black Authors
Signs Up Bronzeville
The Dream Booth
Black Ag Activities with The Bronzeville Growers Market
Drum Making with Baba Jubal
Fashion Activation with Black Out & Proud
Paint by Numbers Activations
Graffiti Art
Paint the Power (Kids Edition)
Resistance Wall (1850 – Present)
Freedom Wall
Joy Wall
Jubilee Festival (teaser)
HBCU Lane/NPHC Stroll Off
The People's Circus
JPPF History Booth
On the Ave Photo Walk w/Kojo Kamau & Kaleem Musa
Pictures with Dads
Chess with the Royal Oak Initiative
…and much MORE