Silent Auction 
Guests have the chance to bid on the following items from 6:00 PM – 7:30 PM
Embellished Wall Art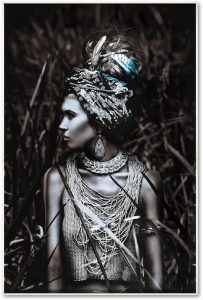 Donated by:
Value City Furniture
Tito's Vodka Gift Basket
Donated by:
Tito's Vodka 
Cameron Mitchell Gift Card 
Gift card with $1200 worth of delicious food at any of the 21 Columbus restaurants and
18 Ocean Prime locations nationwide.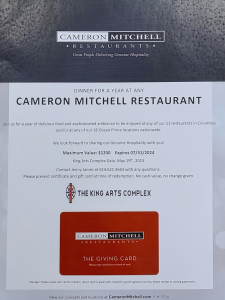 Donated by:
Cameron Mitchell Restaurants 
Live Auction 
Guests have the chance to bid on following items during the VIP Program.
Original Artwork 
Original artwork by a well-known Art Nouveau artist whose collectors' demographics have no racial boundaries, and include everyone from working professionals to affluent sports figures and entertainment superstars.
Artwork to be unveiled during live auction.*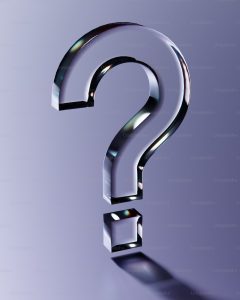 Ohio State Buckeyes -  Football Package
Four tickets to the Saturday, November 11, 2023  BIG Ten Conference game
The Ohio State University vs. Michigan State University
Tickets are located on the 50-yard line, in row 8, seats 3-6, directly behind the Buckeye's home bench
1 VIP parking pass to the WEST parking lot
1 NIKE official OSU football, signed by Head Coach Ryan Day and SVP & Athletic Director Gene Smith
Donated by:
Sheila and Gene Smith
Degrees at Columbus State Experience
Experience a dinner for 20 guests by Chef Josh Wickham hosted at Mitchell Hall, located at Columbus State Community College.  The package also includes a beverage lab wine or cocktail tasting presentation, kitchen lab stations after presentation and passed dessert.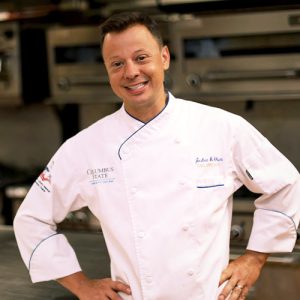 Donated by:
Columbus State Community College
Summer Camp Scholarships
Join us during the live auction to sponsor students to attend the 2023 King Arts Complex Summer Camp – June 12th – August 4th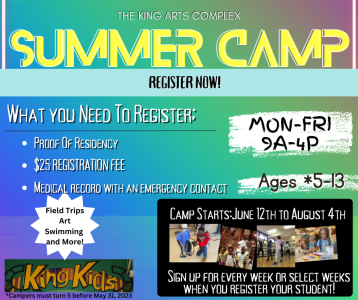 HERE ARE YOUR WAYS TO PAY
Click button above to be directed to King Arts Complex - Payment Center
Scan the QR code on Page 31 of your program booklet, select a donation amount, and
pay online.
Pay during the Gala at the payment table near the doors.
Request an invoice at the payment table during the Gala.
Visit kingartscomplex.com/payments today.