A Crucial COVID Conversation with Brilliant Black Women
February 26, 2021 @ 12:00 pm

-

1:00 pm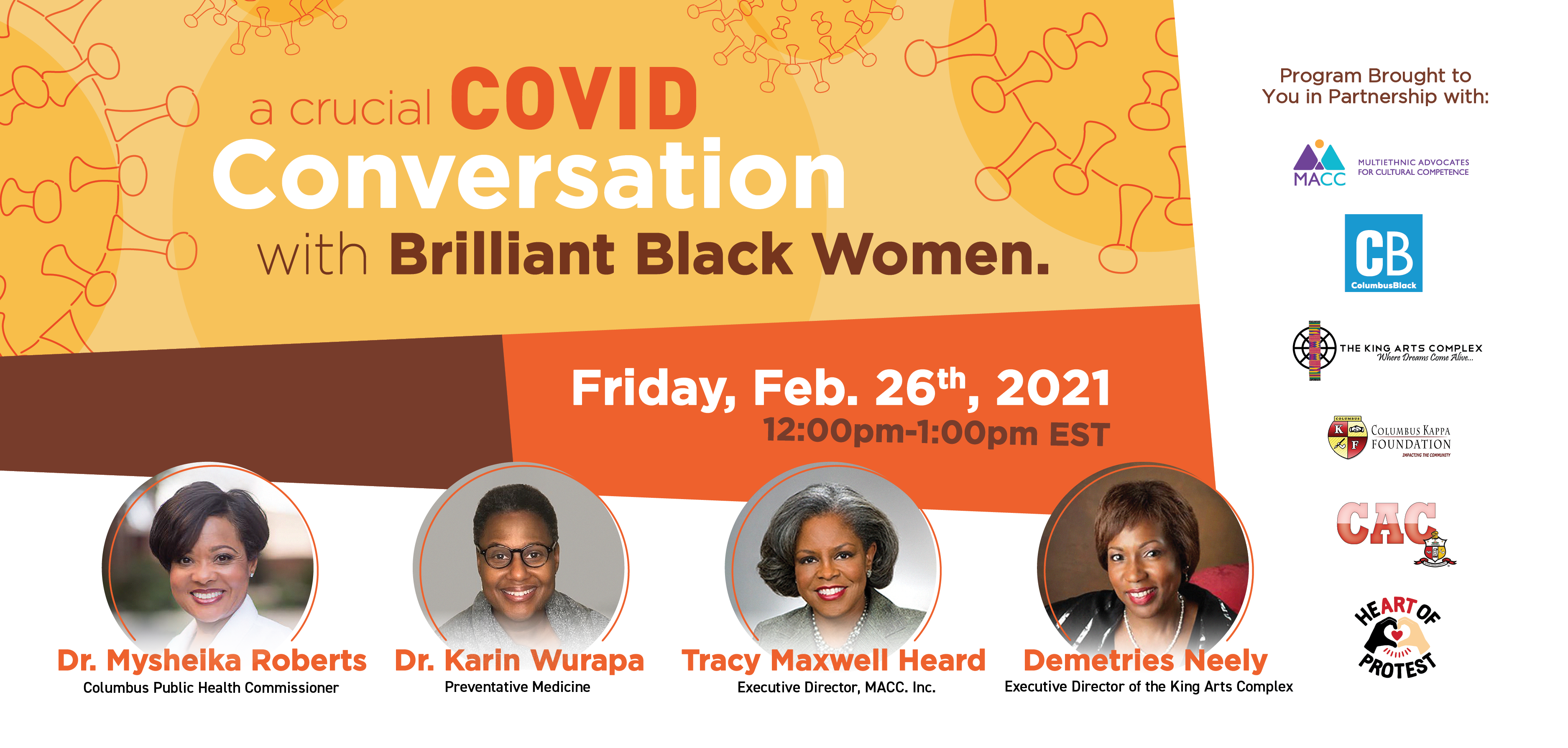 Register Here: https://us02web.zoom.us/webinar/register/WN_hO3J8WQ3TfeeEzxwgFjFUA?fbclid=IwAR0kH0OhcQFDClfppmxy4YJUnXYVrAfOBJulaL6RKpngw0n1xw2s3w1HmdM
Join COSI as we host an important discussion focused on all things COVID-19 and vaccines. In honor of Black History Month, we will hear from four brilliant Black women from right here in Columbus, including esteemed health expert Dr. Mysheika Roberts, Columbus Public Health Commissioner, and the brilliant and accessible Dr. Karin Wurapa, who specializes in preventative medicine. Moderated by Ms. Tracy Maxwell Heard, Executive Director for MACC, this impactful conversation will answer frequently asked questions centered around the pandemic. Have you wondered things like – what is in the vaccine? What should I expect when I get my vaccination? How do they know what dosage is right for me? What about my blood type? Can they force me to get the vaccine? Join us as we answer these questions, address the health disparities that disproportionately affect African American communities, discuss how we can be the best advocates for our health, and much more!
About our Panelists:
Dr. Mysheika Roberts is the Health Commissioner for Columbus Public Health. Dr. Roberts leads the organization and a team of nearly 500 public health professionals who are focused on neighborhood-based approaches that address the social determinants of health from safe, affordable housing and education to jobs and violent crime in order to decrease the health disparities that exist.
Dr. Karin Wurapa, is a passionate advocate for wellness. Dr. Wurapa is a Family, Lifestyle, and Preventive Medicine Physician who also specializes in Public Health Policy. She recently completed a special assignment as a consultant to the Medical Director and COVID Response Team at the Ohio Department of Health.
Our moderator for the event is Ms. Tracy Maxwell Heard. Ms. Maxwell Heard is the Executive Director of Multiethnic Advocates for Cultural Competence (MACC, Inc.). Heard earned an honorary Doctorate of Humane Letters for efforts in Ohio legislature.