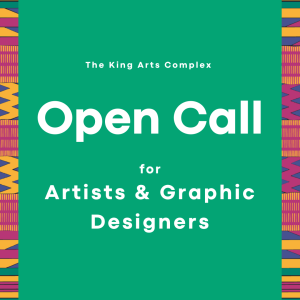 Call Summary:
The King Arts Complex is accepting proposals for rebranding. We are looking for designs of high artistic merit that exemplify the history of the organization and how we serve the community through the arts.
Project Description:
The rebranding of the King Arts Complex includes the following assets:
• Logo
• Color palette
• Brand guide
• Typography and additional assets
• Iconography
• Business cards
• Letterheads and stationery
• Website copy or content
• Tagline suggestions/designs
History:
The King Arts Complex is located on the near East side of Columbus, Ohio, in one of the oldest areas of African American life in the city. Serving as a major anchor for development in the King-Lincoln District, The King Arts Complex is an oasis for cultural and educational activities as well as community facility for special events.
Who can apply:
This call is open to professional graphic designers and artists. We strongly encourage artists of color to apply.
Application Materials:
• 5-7 images of current graphic design work
• A current artist resume & artist statement
• Up to five images of your proposed logo or design assets
How To apply:
Email application materials to Jevon Collins jcollins@kingartscomplex.com by May 23, 2022.